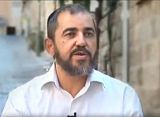 Born to an impoverished family himself, Aryeh Lurie, the founder and director of Yad Ezra V'Shulamit, made a personal promise to overcome the challenges of poverty, achieve financial stability, and help others do so as well. He named the organization after his parents and modeled it according to the values of charity and kindness which they instilled in their family and community.It is with the sensitivity and insight of personal experience that Lurie manages the organization as a whole and relates to its clients as individuals."They don't want to beg, but we hear their cry," he says about the families whom Yad Ezra V'Shulamit serves.
Lurie runs the organization like he does his personal life, with a remarkable sense of responsibility for the wellbeing of every Jew.
Today Aryeh Lurie lives in Jerusalem with his wife and children.